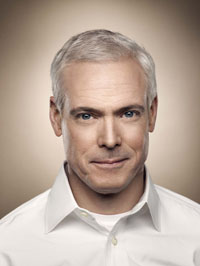 "Greatness is not a function of circumstance. Greatness is largely a matter of conscious choice and discipline."
Acclaimed author Jim Collins has done extensive research about how and why companies thrive in uncertainty and others do not, and will share what he's learned with you this June! Ever wonder how your company can thrive in the chaotic world in which we live? You'll have a better idea of the answers after you experience this keynote address.
General Session II: CEOs Discuss Unity
Never has it been more critical for direct sellers to unite to share the same message. Direct selling provides a better life for 16 million Americans. It provides economic independence, a sense of fulfillment, connections with others and a quality of life many do not and cannot achieve through a more traditional workplace environment. During DSA's 2014 Annual meeting, a panel of industry CEOs will convene to discuss how the sales channel has united in the past year to address the obstacles and challenges, opportunities and successes presented by the marketplace. They'll share their perspectives as CEOs of direct selling's most successful companies. Speakers include:


Alessandro Carlucci
Chief Executive Officer
Natura Cosmeticos


Doris Christopher
Founder & Chairman Emeritus, Interim CEO
The Pampered Chef


Doug DeVos
President
Amway


David Holl
CEO
Mary Kay Inc.


Truman Hunt
President & Chief Executive Officer
Nu Skin Enterprises


Michael O. Johnson
Chairman & Chief Executive Officer
Herbalife


Joseph N. Mariano
President
Direct Selling Association


Cindy Monroe
Founder & CEO
Thirty-One Gifts
Closing General Session: Celebrate Influential Women in Direct Selling
Lori Bush, Traci Lynn Burton, Kay Napier and Connie Tang will be featured in a roundtable dialogue during Tuesday afternoon's general session that will showcase the critical role women play as leaders in direct selling. In today's marketplace, executives must be prepared to lead their organizations through disruptions and change. This session will celebrate the perspective women bring to this dialogue as you hear from Traci Lynn, Lori, Kay and Connie about the challenges and opportunities they see in today's business environment. Speakers include:


Traci Lynn Burton
Founder & Chief Executive Officer
Traci Lynn Fashion Jewelry

Lori Bush
CEO
Rodan + Fields


Kay Napier
CEO
Arbonne International


Connie Tang
President & Chief Executive Officer
Princess House